Empowering women in collaboration
with the foundation Femmes du Monde
Why does Janat support Femmes du Monde ?
Femmes du Monde is a women empowering organization founded in Geneva in 2000 to support rising women of all ages and educational backgrounds believing they are the key of change around the world. The foundation started its projects in Sri Lanka in the tea plantations as more than 90% of the workers are women. Femmes du Monde supports women from plantations to entrepreneurship projects and all ambitious women by establishing benefit platforms and open paths for them to succeed without impeding them with challenges that do not contribute to their journeys.
Femmes du Monde Purpose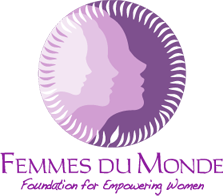 "Femme du Monde's goal is to create a world where women can experience a better life through the improvement of their work and life environment.
Women are the backbone of a country and reflect its strength. In this project French and Japanese women gather to create a culture of freedom. With a strong network of women all over the world, they support women who are hesitant to climb the steps by helping them to see their future without a glass ceiling.
Humanist mission in Sri Lanka

Beyond financial support Femmes du Monde provides skills and competences to improve women living conditions and maintain a better life for themselves and the next generations.

The support to long-term projects contributes to empower women in 3 areas:

Education, training & quality

In Sri Lanka, Femmes du Monde trained women to improve the quality and increase their benefit to the tea industry value chain. Educating women concerning quality means increasing quality control from the tea leaves to the final product and monitoring the quality at all levels.
Women also control, monitor and operate the latest manufacturing cleaning techniques with equipment supported by Femmes du Monde, that ensures the cleanest and safest teas in the world.

Health & social protection

Femmes du Monde is continually working with women on the tea estates providing them with access to a regular health clinics and post maternal health.

Leadership & decision making

Femmes du Monde helps them to build up confidence and allow women to access higher positions in the tea industry such as quality manager and export manager.
Rising Women Interview
JANAT teas are crafted by over 1000 tea woman pluckers working in Sri Lanka.
These Sri Lankan women work to deliver this delicious tea to people all over the world and like these woman,
we want to introduce you these Japanese women,
who have different background and who are working hard to rise and grow strong.
JANAT will continue to support all women around the world.
Sri Lanka
Anjana

[ 48 years old ]

'Picking quality tea everyday brought dignity and hope to my family.
I am more than thankful for the training I received.

Sachee

[ 28 years old ]

'Thanks to Femmes du Monde, I found a job as tea taster while tea taster jobs are usually exclusively for men. Then, I became export manager, a job that few women do until now.'

Chandhika

[ 34 years old ]

'More than a stable income, empowering a new generation of young Sri Lankan woman is more powerful for us. I now foresee a better future for my daughters.'

Saarah

[ 32 years old ]

'I could deliver my child and find my job back later at the tea factory, thanks to the training I got in tea cleaning. Many thanks to Femmes du Monde.'

Latha

[ 52 years old ]

'Femmes du Monde has helped me to get a better education, training and grow skills. It allows me to have a decent job and an income for my family.'
Japan